Financial Planning
During the Financial Planning Process, I will help you take the guesswork out of your financial strategy and help you understand the implications of each financial decision you make. Together we can help:
Define your financial goals

Create a timeline to help achieve your goals

Discover spending habits and Measure progress

Identify risks

Build wealth

Live comfortably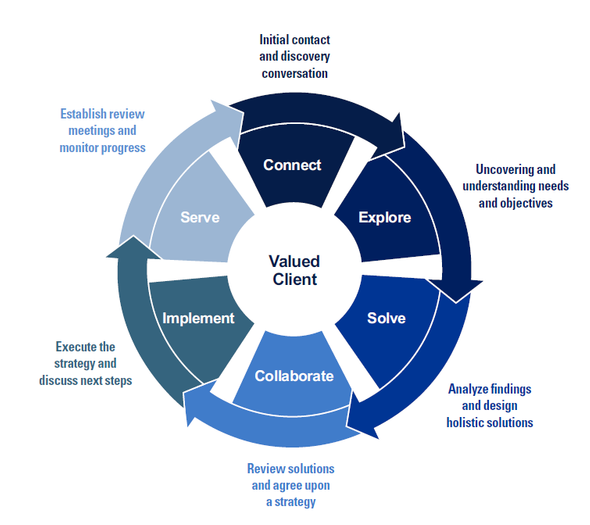 The Financial Planning Process
No-Obligation Introductory Session
This is your opportunity to evaluate our services and receive a taste of the potential of working with your own professional wealth management advisor.
Determing the cost for a written Financial Plan
Cost is determined by a client's particular financial situation, the services being provided and the client's financial objectives.
Information Gathering
Together, you and your advisor will gather data about your financial situation and goals. We only proceed when you're convinced we have a clear understanding of who you are and what your financial objectives are.
Analysis and Recommendations
Your advisor, along with any other appropriate member of our practice solutions group , will then conduct an in-depth analysis of your financial situation. We examine alternative solutions to improve your situation and prepare our recommendations for your review, discussion and approval. This requires anywhere from 2-4 meetings.
Final Plan
Your advisor then delivers and explains a detailed, written document with our specific recommendations custom-designed to meet your financial goals and needs.
Monitoring
We maintain a business relationship with you through frequent reviews and ongoing contact based on your needs and desires. Monitoring and updating your plan is essential to your plan's success. There is a fee associated wtih updating the plan.
Plan Renewal and Update
A lot can change in 365 days. To reach your goals, we suggest you review and renew your financial plan every 1-3 years to ensure you remain on track.
*Financial plan recommendations can be implemented with the advisor of your choosing. Implementation of specific products or services may result in commissions or fees outside of the financial plan fee. Periodic reviews of your financial plan may require a new planning agreement and result in additional fees.